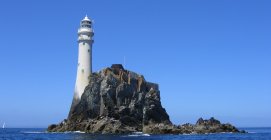 The Fastnet lighthouse (from Old Norse: Hvasstann-ey meaning "sharp-tooth isle" — called in Irish: Carraig Aonair, meaning "solitary rock / lone rock") is a lighthouse on a small island in the Atlantic Ocean and the most southerly point of Ireland. It lies 6.5 kilometres (4.0 mi) southwest of Cape Clear Island and 13 kilometres (8.1 mi) from County Cork on the Irish mainland.
Key facts about the Fastnet Lighthouse:
The Fastnet Lighthouse is one of the most exposed lighthouses in the world. It is also a truly exceptional feat of engineering and construction.
 The Fastnet Lighthouse was designed by William Douglas
Due to its location, Fastnet was known as 'Ireland's Teardrop' because it was the last part of the country that Irish emigrants would see as they sailed to the United States in the 19th century.
The current lighthouse is the second to be built on the rock and the highest in Ireland.
Construction of the first one started in 1853, and it first produced a light on 1 January 1854. The lighthouse replaced an early one built on Cape Clear Island in 1818, partly motivated by the loss of an American sailing packet, Stephen Whitney, in thick fog during November 1847 on nearby West Calf Island causing the death of 92 of her 110 passengers and crew. The new lighthouse was constructed of cast iron with an inner lining of brick and was designed by George Halpin.
Costing £17,390, the tower was 63 feet 9 inches (19.4 m) high with a 27 feet 8 inch (8.4 m) high lantern structure on top, giving a total height of around 91 feet (27.7 m). It had an oil burning lamp of 38 kilocandelas; in contrast modern lighthouses typically produce 1,300 kilocandelas. In 1883 an explosive fog signal was installed, which electrically detonated a small charge of guncotton every five minutes in fog.
The tower proved to be too weak, since gales shook it to the point that crockery was sometimes thrown off tables, and a 60 imperial gallon (273 L) cask of water lashed to the gallery 133 feet (40.5 m) above high water was washed away.
Various steps were taken to strengthen the tower, including fitting a casing around the bottom section up to the second floor and filling it with stone, and the surrounding rock smoothed over. In 1865 the lower floors were filled in with solid material.
However it got there, the Fastnet is an invaluable landmark for Atlantic shipping , not to mention locals who judge what the weather is about to do by checking on the rock's visibility
There is an interesting display about the current and previous lighthouses at the the Mizen Head Interpretative Centre.